R.A. (Ron) Morris Quarter Horses & Paints
R.A. (Ron) Morris
My goal is to teach genuine horsemanship, sportsmanship, responsibility, confidence and compassion
And raise and train horses to reach their potential whether it be in the show pen or on the trail.
With over forty years in the saddle training, riding and showing;
More students than I can count;
And a chance to celebrate successes big and small from the round pen to the national level show pen,
the popular ten day challenge on social media (post a picture with no explanation) inspired a new format for the archive and show pages.
So, you'll see Stock Horses (AQHA, APHA, PtHA, PHBA, ABRA and ApHC) that have passed through my pastures and barns (trained, coached, shown, bred, raised or sold) and include:
World Show Reserve Champions and Top Five Competitors

Champions

Regional, Color Breed Congress and Stock Shows - Winners, Reserves, Top Fives and Top Tens

Register of Merit Earners

Grand & Reserve Champions

Futurity Winners and Money Earners

Incentive Fund and Breeder's Trust Money Earners

State Year End High Point Award Winners

Show High Points

Working Horses

4-H Horses and Saddle Winners

Over 20 years breeding AQHA, APHA, PHBA and ApHC horses

And more…….
I'm proud to say that over half of the photos on this site are horses that have been home bred and raised.
Sometimes the biggest successes are achieved at home in the practice pen or are seen in the methodical daily, weekly, monthly and continuing training process.
Training, coaching and showing is in my blood. Stay tuned for more……
American Buckskin Registry Association (ABRA) and American Stock Horse Association (ASHA) accredited judge. To maintain judge's certification and stay current on industry standards and trends, attended 2019 judges seminar sponsored by the Color Breed Council.
Member of APHA Professional Horseman Associations since the inception of this organization.
APHA certified clinician and ambassador and actively serving on APHA Judges Advisory Committee.
Has been actively involved in the NM Horse Council, NM Quarter Horse Assocation, NM Palomino Exhibitors Association and the NM Paint Horse Club, holding numerous officer and board positions over the past forty years. Also, serves as an APA national director for Palomino Horse Breeders of America and as an alternate NM affiliate national director for the American Paint Horse Association. Currently, treasurer of the NM Paint Horse Club and president of the NM Palomino Exhibitors Assoc.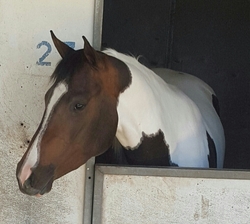 Outstanding 2012 APHA, PtHA, PHBA registered bay tobiano mare for sale by World Champion sire, By Appointment Only (Invitation Only X Hug Me Zippo), and out of proven producer of halter & performance point earners (AQHA, APHA and PHBA). Breeders Trust Gold (money earner). 16 hands. Naturally great mover with great hock action and lift. Will go English and Western. First show under saddle in 2019, she placed 3,4 & 5 out of 11 (late start showing under saddle is no fault of her own). Super disposition and eager to please. Qualified for 2020 APHA World Show. Only being offered for sale to good show home. $8,500. Will consider on site lease (boarding, training and lessons available). With limited showing, she has APHA points (22.0) in Open & Amateur Halter, Color and Amateur W/T Showmanship.
Accepting a limited number of dedicated students and horses for training. Let's visit and talk about your goals.